Harley-Davidson Superglide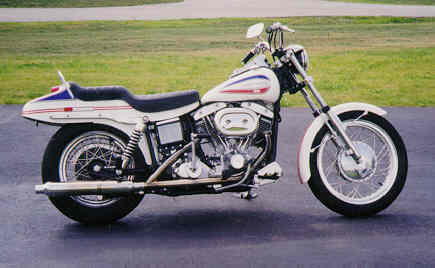 The Superglide was born in 1971. Essentially the mating of the FL ("Dresser") frame and big twin drivetrain with the smaller forks and triple-trees of the XL ("Sportster"), it marked the beginning of Harley-Davidson's line of "factory custom" designs. Dubbed the FX, the Superglide was a new breed of lightweight cruiser... the perfect platform for a whole new generation of customizing.
For years hardcore riders had been taking the stock models and customizing them. The FL models had parts stripped and swapped, fenders bobbed, customized paint and accessories added. The K and X models (Sportster and its ancestors) had similar modifications. With the Superglide line, Harley-Davidson recognized the need for what could be called the "mid-size" model.
Eventually, the Superglide line expanded to include such models as the Low Rider, Fat Bob and Wide Glide. In 1982 the FXR appeared, the first member of the Superglide line that did not use the same frame as the full size touring FL models (Electra Glide). The FXR used a 3 point rubber mount engine design and was dubbed the Superglide II. The original frame design retired in 1986, completely replaced by the rubber mount FXR. Another new frame design, the Dyna Glide was introduced in 1991, and had completely replaced the FXR by 1995. The Dyna's continue today as the bearer of the Superglide title. Throughout, various other names were given to these bikes, in addition to the few mentioned above. There was the Sturgis, Sport Glide, Convertible, Sport, Custom, Disc Glide, and various combinations of these names. Throughout, these were all members of the Superglide family.
I've been around these motorcycles since a child, and the Superglide has had the greatest attraction to me ever since my earliest interest in Harley-Davidson.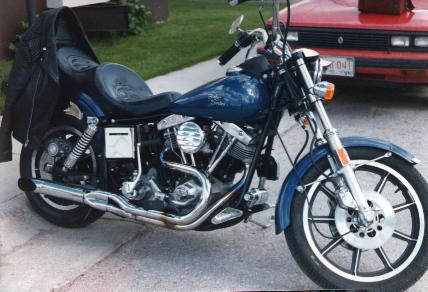 A 1979 FXEF Superglide "Fat Bob"... Nearly identical to the 1979 FXEF my father and I are currently restoring. Stay tuned for pictures of the actual restoration.
Sign My Guestbook
View My Guestbook


last changed 12/27/2000